"It's a safe feeling to know that the results always are perfect."
"It's a safe feeling to know that the results always are perfect."
Protection cover
Each GALLANT razor has a protective cover.
See start page animation on how cover is easily removed.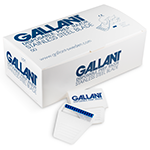 Dispenser box
The convenient size of the GALLANT dispenser box allows for easy distribution to the treatment rooms. There are 50 x GALLANT disposable prep razors per dispenser box.
LOT/ Batch number
Each dispenser box has a unique LOT/ Batchnumber. This helps us identify and control when our razors have been produced and quality controlled.
Master carton
Our Master carton contains 36 x dispenser boxes
(1800  x GALLANT razors). The master carton protects the razors when they are on their way to you and is therefore the minimum order requirement.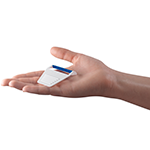 Samples & distribution
Should you require samples or like to know more about us, our product or your nearest distributor , please contact us.